Do you think your home is haunted or you are interested in the paranormal and want to do some investigating to see what goes bump in the night? Well before you head out on your first ghost hunting investigation you will need some tools of the trade. The most popular tools are digital voice recorders to catch all your EVP's, a spirit box to communicate right then and there, a flashlight and EMF meter. These bare the most common and basic tools. You could find all these items in most ghost hunting kits. We have listed kits from merchants around the web to save you some time. We have listed some books on ghost hunting for you too.
The Original Ghost Hunting Kit by Gen-El
1 new from $159.00
Free shipping
See More
Amazon.com
as of April 13, 2020 1:36 am
Features
| | |
| --- | --- |
| Part Number | Z741 |
| Is Adult Product | |
Starter Ghost Hunting Kit with "Ultimate Ghost Tech"
See More
Amazon.com
as of April 13, 2020 1:36 am
Features
| | |
| --- | --- |
| Part Number | P743 |
| Model | P743 |
| Language | English |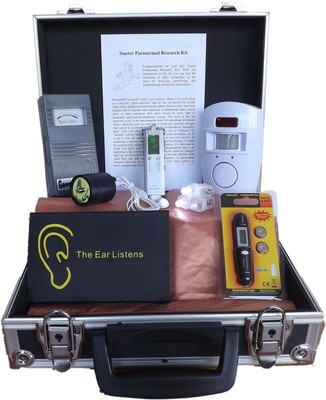 Ended: Nov 9, 12:32 PST
Condition:
New
Last update was on: April 13, 2020 1:36 am
Getting started or know someone who would like to become a Ghost Hunter?This is the best ghost hunter starter kit available! Now new and improved! Original Starter Kit Includes:GaussMaster EMF meterEVP RecorderPortable Motion SensorGeo-phone vibration SensorPen Style Infra-red ThermometerDeluxe Carrying Case to keep it all together. Makes a great gift, too! All this for one low price of $99.95 (We reserve the right to substitute items of different brands, depending on availability) All sales are final, returns are not accepted.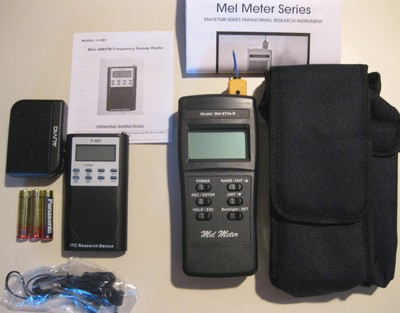 Ended: Nov 14, 17:43 PST
Condition:
New
Last update was on: April 13, 2020 1:36 am
24 hour Shipping Free Shipping HOME About All listings Feedback Policies Contact Customer service is our #1 priority! Menu Store Categories Automotive Baby Products Baseball & Softball Gear Basketball Gear Bath Bicycle Accessories Bird & Wildlife Accessories Blank Diaries & Journals Board Games & Card Games Boating & Marine Items Camping & Hiking Cool Gadgets Cornhole Items Crafts Darts Decorative Arbors & Trellises Electronics Fire Pit Accessories Fire Pits Fishing Fitness Football Gear Gardening Supplies Ghost Hunting Equipment Health & Beauty Hockey Gear Home Decor Home Improvement Home Security Hunting Kitchen Knives Made in the USA Products Magnets Man Cave Martial Arts Motorcycle & ATV Gear Natural Looking Floral Decor Office Supplies Pest Control Pet Products Roller Skating Soccer Spiritual & Metaphysical Items Sporting Goods & Outdoor Fun Sports Teams Flags & Pennants Survival Gear & Equipment Tin Signs Tools Toys Unique Gift Ideas Water Sports Other items Store Newsletter Add our store to your Favorites to receive our email newsletters about new items & special promotions. Sign Up Questions? Ask the seller a question. Click Here FM AM ~ P-SB7 Spirit EVP Box + Mel Meter EMF GHOST HUNTING METER detector KIT Limited Time ONLY: Receive a Deluxe Carrying Case with every Mel meter at no additional charge. This is a rugged (stitched) padded case with Velcro flap that includes a belt loop, shoulder strap and extra flap covered pouch that can be used for extra 9V batteries, mini tripod, flashlight or an extra Thermocouple temperature sensor. Click Thumbnails to Enlarge Product description This is THE Spirit Box used by Zak Bagans of the hit paranormal tv show "Ghost Adventures" The P-SB7 is the first production built Spirit Box designed exclusively for Paranormal enthusiasts. The P-SB7 made its premier debut on Ghost Adventures "LIVE" show from the Trans-Allegheny Lunatic Asylum on October 30, 2009. From the moment it was turned ON, The P-SB7 provided "real...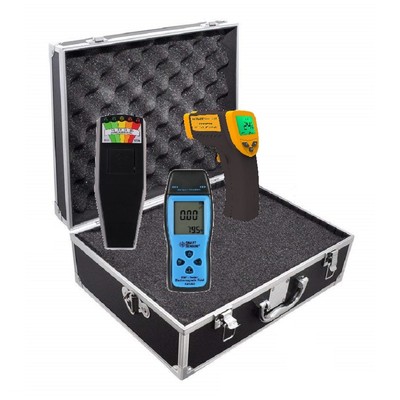 Ended: Nov 23, 06:37 PST
Condition:
New
Last update was on: April 13, 2020 1:36 am
Ghost Hunting Paranormal Equipment Kit Includes: • K2 EMF Detector Meter • Digital EMF Detector Meter with Temperature • Temperature Gun • Equipment Case